Posted by Katie C at 21:10
In a recent effort to get a little bit more organised (and an excuse to get some new pretty notepads) I bought two new notebooks off Etsy. One is coming from Australia and will be reviewed when it arrives, but the other had a relatively short trip from Scotland and arrived this morning!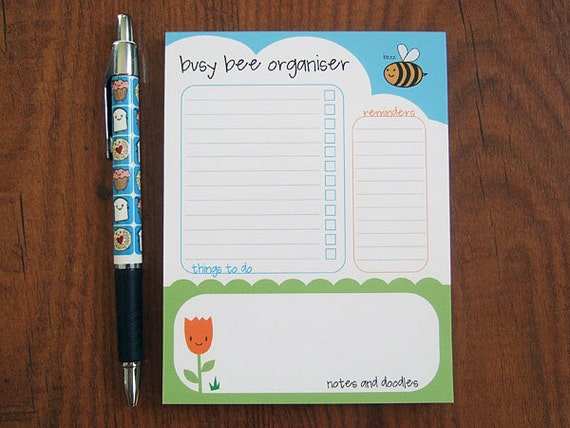 Yes I bought this adorable notebook! I've had my eye on it for quite a while, partly because I like the tickboxes and partly because I love the smiling tulip in the bottom left corner. It arrived nicely packaged in a cellophane bag and a waterproof envelope and had a postcard advertising some other cute products. It's a little bit smaller than I was expecting, but that's purely because I struggle to wrap my head around sizes even when the listing has them. It was posted out within the shipping dates and thanks to Royal Mail arrived very promptly.
There's more notebooks (including a food planner one) as well as badges, stickers and cards so if you're in the mood for something cute I really think you should check out this shop.
Have a nice evening!