I've just stumbled through the front door with knackered legs and worn out feet, because today I did a five mile walk for the Motor Neurone Disease Association around Bushey Park, near Richmond/Twickenham/Kingston in London.

When I woke up this morning the first thing I did was look out my window. Yesterday it rained a lot so I was praying that it would stay dry, and while it was cloudy that didn't necessarily mean that it would rain. I just had to cross my fingers. My first stop, before getting the bus to Richmond, was to the bakery for breakfast. The original plan was to get cheese straws but I realised that while they're tasty they're not exactly filling. So I also bought a flapjack too.


A flapjack like this by
Marmalady
, except mine didn't have fruit.
The bus journey was interesting, I've been driving for nearly 7 years now so I'm not used to buses, so the trip consisted of me worrying that I had got on the wrong bus and was going to end up miles away in the wrong direction. When the display showed my stop was next I nearly threw myself out of the door then and there XD
The set off point was the Stockyard Entrance to the park, marked out with blue and orange balloons and a bloke in a blue t-shirt who pointed me to the little tent set up where I could register. I was already wearing the MND t-shirt I was given when I went to cheer at the London Marathon, but they gave me a second one ("this one has extra feet!") and a little two orange feet badge. After that there was nothing to do but stand around and wait for the 11 am kick off. I was on my own and knew absolutely no one, but one of the marshalls wandered over and had a chat with me and explained the route. It started to rain so we all ran under cover, but it quickly cleared up so we all hoped that that would be end of it.
By 11 everyone was ready so we went to the "starting point", the gate to the Park, where a man with a megaphone gave us a few quick details and then we were on our way!
There were quite a few people ahead of me, and my intent was not to stride on ahead like I normally do but to stroll along. Unfortunately I didn't have anyone to talk to and match paces with, and I had Metallica in my ears and some of their music has quite a fast beat, so I slowly but surely began to overtake people until I was well ahead, with only two people in front of me.
The walk was very nice along a path that wound it's way through the park. It's obviously a very popular space, there were lots of cyclists and joggers and a few other walkers as well. The problem with being in front was that I wasn't sure if I was going in the right direction so I occasionally glanced back to see if anyone was following and felt very relieved when I saw the line of other blue shirts, until I ended up going a bit too far ahead and lost sight of them completely but by this time one of the marshalls, who was on a bike, realised just how fast I was walking to he gave me directions for the next section so I knew where I was going.
I spotted a deer like this! (Photo from
petekdesign
on Etsy)
I eventually caught up with the couple ahead of me when they slowed down to look at some deer that were in the park and talked to them as we walked. And then the rain started, properly. They paused to pull on coats and take cover under a tree but by this point I was in my stride so I carried on walking, even though the rain was rather on the heavy side. It soon stopped but by that point my clothes were quite wet, however I simply bore the damp (I HATE walking in wet jeans) and strolled on regardless, still listening to Metallica who proved to be a very good motivator.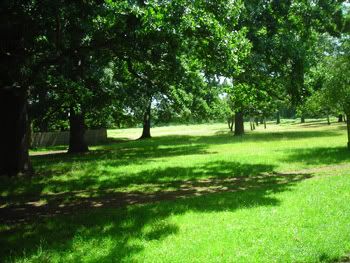 Bushey Park by...me!
And then suddenly the sun came out! And it was at that point that I remembered I had my camera with me so I dug it out of my bag (still walking) and shot my only sunny snap of the day (again, while still walking) as I rounded a corner and found a nice green space. At this point I was starting to slow down as my energy was flagging but I knew I couldn't be too far away from the end. I had been overtaken by two people jogging (jogging five miles!?) but apart from them I was still well ahead. I finally got to the final stretch, which is always the worst part. It was about two thirds of the way up the original path from the main gate but it seemed much, much longer! The end was in sight but it looked like the longest distance in the world!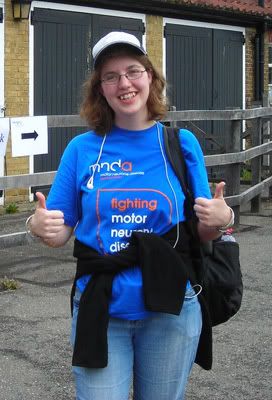 Me, massively frizzy hair is totally in fashion this season XD
Except obviously it wasn't the longest distance in the world. I walked through the same gate I had started at and wandered back to the tents. The problem with being the first walker to finish (I have no idea where the jogging people went) was that I had no idea where I was going, no crowd to follow, so I stood around like a lemon until someone in yet another blue t-shirt spotted me, asked if I had finished and sent me off to a barn where food had been set out! As soon as the word "tea" was mentioned I nearly collapsed on the floor from relief before getting a sandwich and some sausage rolls.
The next people to arrive were the couple I had spoken to, and then other people began to arrive back and wander in as well. I had a nice conversation with a lady called Kim, who is part of one of the fundraising groups and has now added me to their newsletter and who took the above photo for me, and then I headed home.
In total I've raised £275 for the MND Association! My target was £200 so I'm ecstatic about thoroughly breaking it and owe my sponsors a big, big thank you for contributing on my
Justgiving page
. This is a charity that is very close to my heart since my Grandad passed away from MND and is always going to be close to my heart, at least until a cure for MND is finally found. It says a lot about this illness that the first two questions I was asked this morning (and several times throughout the day) were "What's your name?" and "Who did you lose to MND?", and those weren't official questions for the registration.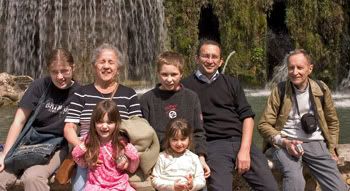 Me and some of my family in Italy in 2005, with my Grandad on the far right!
Have a nice week everyone!